Engage by Being Bolder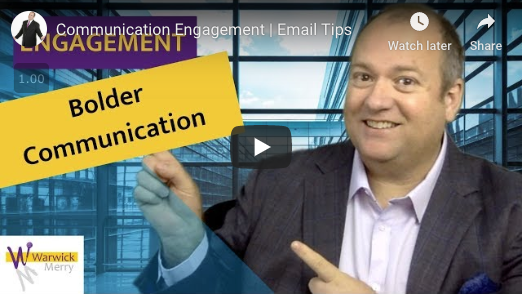 Too often people play it safe and communicate using "corporate speak" or what others actually refer to as "bulls#!t bingo."
If this is you, STOP IT!
We have retreated to the safety of the comfort zone. Too many leaders forgot how to lead and are merely managing and in the process, losing great people.
It is time to get real. This include being respectful in your language, but let go of the flowery things you "should say" as say what you need to in your own language.
Be Bolder. Stand up for yourself and let go of the fear of saying the wrong thing. If you say the wrong thing, apologise and learn from it. People will understand.
Don't let the fear of saying the wrong thing stop you from saying anything.
So... now Dear-Reader ... what was that you were saying?

[Click the image above for a 1 min video on this]
Warwick Merry - The Get More Guy, is your high energy, results focused, action oriented, no holds barred tour de force Master MC, keynote speaker and Exhibiting Specialist. He ensures your attendees Get More from your event. His MC work is like insurance for your event. It guarantees things will run smoothly and on time. As a speaker, he is like a dose of sparkling mineral water – a bubbling, burst of healthy, sustainable energy for your attendees. If you need a burst of inspiration, cogitation and celebration at your next event you MUST book The Get More Guy, Warwick Merry.
© Get More Pty Ltd
+61 408 592 158 getmore@warwickmerry.com
If you wish to stop receiving our emails or change your subscription options, please
Manage Your Subscription
Get More, 38 Winmalee Drive, Glen Waverley, VIC 3150