How is Your Personal Expression?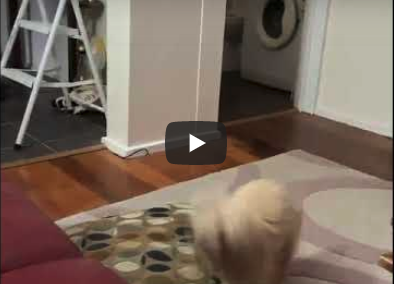 This is our dog, Winston the Wonder Poodle.
He will often show his happiness, excitement and delight by running around in a crazy manner, often referred to as Zoomies. We call them Circle Work. Click on the image above to see him in actions.

It is a way he expresses himself with no concern of what others think.
Whether he runs circles through the lounge, kitchen and entry way or does massive circles around the paddock when we are up at the shed, or this simple circle work up and down the couch, he is not ashamed to show how he feels.
We can get so hooked up on the negativity or the expectations and "shoulds" of the world that we sometimes forget to express how we feel. Then, if we do get the urge to show how we feel, we worry about "what will other people think."
Be like Winston.
Show the world how you are feeling through your words, actions and behaviours. There are so many fabulous things happening in our world that we can forget to enjoy them or show people how they make us feel. It's time for that to change.
How do you express yourself?


PS This episode of the Get More Success show we chat with Cathy Fyock about expressing yourself via a Book!
She is the Business Book Strategist and she has some easy to implement tips on how you can write your book quicker, easier and cheaper.
Click on the image below to listen or seach for Get More Success.
Warwick Merry - The Get More Guy, is your high energy, results focused, action oriented, no holds barred tour de force Master MC, keynote speaker and Exhibiting Specialist. He ensures your attendees Get More from your event. His MC work is like insurance for your event. It guarantees things will run smoothly and on time. As a speaker, he is like a dose of sparkling mineral water – a bubbling, burst of healthy, sustainable energy for your attendees. If you need a burst of inspiration, cogitation and celebration at your next event you MUST book The Get More Guy, Warwick Merry.
© Get More Pty Ltd
+61 408 592 158 getmore@warwickmerry.com
If you wish to stop receiving our emails or change your subscription options, please
Manage Your Subscription
Get More, 38 Winmalee Drive, Glen Waverley, VIC 3150