Have You Got The Right Person?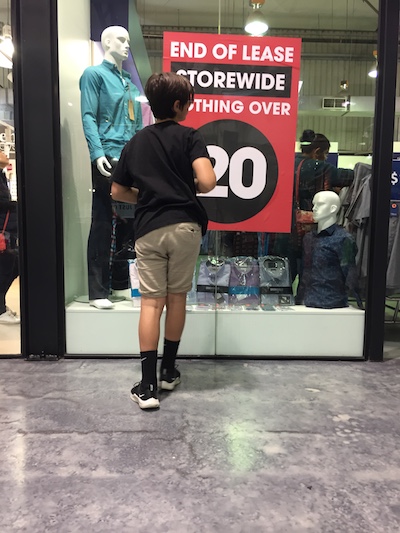 As we were shopping on the weekend, I spotted this young man putting up that sign. It is the sort where you spray the glass, apply the sign and then squeeze all the air bubbles out.

He was doing a crap job of it and I suspect it was not his fault.

To me, he looked like he was 15. The is a chance he is older and because I am an old fart everyone just looks young but the reality is, his age should not matter. It is the outcome that counts.

The outcome was ordinary!

If you look at the sign, it is on an angle and not square with the window. If this angle or skew is obviously part of the decoration, I can live with it, but when something is slightly off, I notice it and it becomes a barrier. A small one, but a barrier none-the-less.

After he had finished, there were still air bubbles in it. During the process of applying the poster, he was scrapping all over the place. I would have thought a systemised approach starting at the middle and then moving out would have worked well. Maybe his technique is the store approved one, but the results were still ordinary.

It felt like they had the wrong person for the job.

Maybe he is the right person for the job and he is just learning. Then why not have someone who knows what they are doing be standing there advising, training, and guiding him to excellence.

Maybe he got it wrong and it needs to be re-done. After he finished, nobody came out to review his work, advise on corrections or ask him to re-do it.

Maybe because it is the end of the lease, they just don't care. This is what it felt like.

I have said it before, you MUST make it easy to be the customer.

There are so many things that can act as a barrier to your customers. Your shop or business decor is one of them. Posters on the wrong angle, not set up correctly or not conveying the brand appropriately are not major issues.

Most of the time you won't know what's wrong, you will simply know something "doesn't look right". This becomes a barrier and it can easily be enough to stop you entering the store or doing business.

Make it easy for your customer and for you team. Get the Right Person doing the Right Job at the Right Time.

So Dear-Reader have you got the right person for the job?



Warwick Merry - The Get More Guy, is your high energy, results focused, action oriented, no holds barred tour de force Master MC, keynote speaker and Exhibiting Specialist. He ensures your attendees Get More from your event. His MC work is like insurance for your event. It guarantees things will run smoothly and on time. As a speaker, he is like a dose of sparkling mineral water – a bubbling, burst of healthy, sustainable energy for your attendees. If you need a burst of inspiration, cogitation and celebration at your next event you MUST book The Get More Guy, Warwick Merry.
© Get More Pty Ltd
+61 408 592 158 getmore@warwickmerry.com
If you wish to stop receiving our emails or change your subscription options, please
Manage Your Subscription
Get More, 38 Winmalee Drive, Glen Waverley, VIC 3150