Who Said Events Are Glamorous?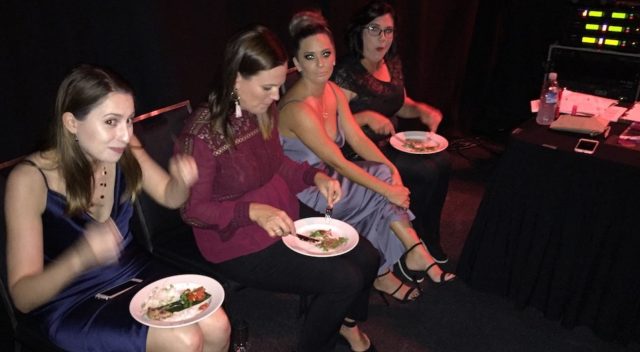 Last week I hosted the Queensland Mining Awards.

It was a fantastic night. Over 600 people came together in a stunningly decorated venue to celebrate innovation, community support and achievements in mining.

What you usually don't see is all the hard work and lack of glamour happening back stage. Like this photo.

While everyone else is being waited on, the support team and I were back stage getting ready for the next round of awards, dressed super stunningly, balancing our meals on our laps. Quickly dealing with any hiccups that may happen, guiding recipients to the media wall for photos, ensuring recipients are in the room for their announcements and any number of other small things that happen throughout the course of the evening. All smiles and glamour regardless of what is actually happening.

I am certain you are the same at your work.

Often the story of the graceful swan is shared, smoothly gliding along the surface while paddling like crazy beneath.

While the event was a huge success, there was so much that went into it. Months of planning to assess the awards, set up for the venue, logistics for sponsors, pre-recorded video and audio, rehearsals of timing, comedy routine preparation (and changes and practice and changes and practice...), media announcement of winners, social media postings, media interviews, and so on.

Events are no small thing to get right. It is so worth having the professionals help make it happen. The same can be said for what you do.

So Dear-Reader, what behind the scenes work do you do that no-one else knows about?


PS The latest edition of the Get More Success Show is out. We chat with Karen Schmidt of the 5 key elements of being able to adapt to change and how her ballroom dancing and MX5 has helped her do this. Check out this episode by clicking this link or the image below.


Warwick Merry - The Get More Guy, is your high energy, results focused, action oriented, no holds barred tour de force Master MC, keynote speaker and Exhibiting Specialist. He ensures your attendees Get More from your event. His MC work is like insurance for your event. It guarantees things will run smoothly and on time. As a speaker, he is like a dose of sparkling mineral water – a bubbling, burst of healthy, sustainable energy for your attendees. If you need a burst of inspiration, cogitation and celebration at your next event you MUST book The Get More Guy, Warwick Merry.
© Get More Pty Ltd
+61 408 592 158 getmore@warwickmerry.com
If you wish to stop receiving our emails or change your subscription options, please
Manage Your Subscription
Get More, 38 Winmalee Drive, Glen Waverley, VIC 3150