How is your Structure or Strategy?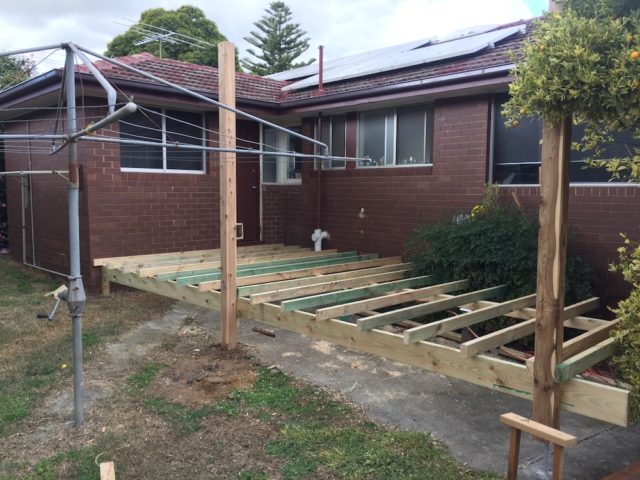 After 8 years of talking about it, we are finally getting a deck!

One of the key things about it is making sure we get the structure right. Granted, we want it to look good but if the support is not there or the layout isn't in the right direction, it won't get the results we are after. It won't meet the purpose we need it for.

A concept I learnt from Paul McCarthy and Brad Tonini is the concept of "For What Purpose?"

The simple act of asking what is the purpose of this action, this idea, this building, this online course, this book - help dictates the strategy.

Some people get excited by an idea (or bright shiny object), rush in and start DOING. They believe the rubbish perpetuated by Hollywood Movies, "If you build it, they will come" (Spoiler - THEY WON'T!) You really must understand the reason behind it and what you will do with it.

This deck won't add massive value to our house but it will give us some great lifestyle elements. Afternoon sunshine, a few cold beverages, per chance a BBQ or some nibbles, surrounded by friends and family all while watching Winston the Super Poodle (and head of Barketing) run around - this sounds pretty good to us.

So Dear-Reader, with what you are trying to achieve with your work, business or family, how is your strategy?

Does you have a well thought out plan of:
What you are trying to achieve

Who you are trying to achieve it for

Where you will be working on it

How you will achieve it

How you will celebrate when you achieve it
You have to get the strategy right for the results to follow.

Let me know if you need any help.
Warwick Merry - The Get More Guy, is your high energy, results focused, action oriented, no holds barred tour de force Master MC, keynote speaker and Exhibiting Specialist. He ensures your attendees Get More from your event. His MC work is like insurance for your event. It guarantees things will run smoothly and on time. As a speaker, he is like a dose of sparkling mineral water – a bubbling, burst of healthy, sustainable energy for your attendees. If you need a burst of inspiration, cogitation and celebration at your next event you MUST book The Get More Guy, Warwick Merry.
© Get More Pty Ltd
+61 408 592 158 getmore@warwickmerry.com
If you wish to stop receiving our emails or change your subscription options, please
Manage Your Subscription
Get More, 38 Winmalee Drive, Glen Waverley, VIC 3150