What Are You Looking For?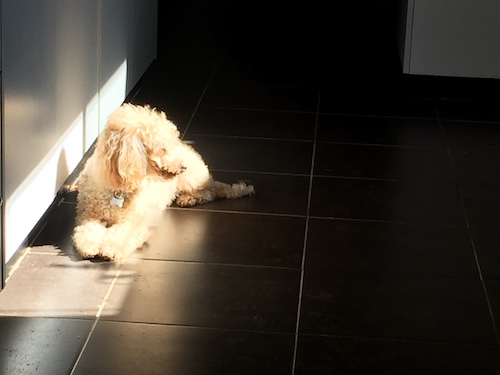 I happened to notice Winston the Wonder Poodle basking in the sun a couple of days ago. Now this spot is in the kitchen just under the cook top. It is not the most comfy place to rest but it was the only place in the house where the sun was coming in.

Winston is a sun lover. He will frequently track down the most obscure place where there is a glimpse of sun so he can rest in it and keep warm. He knows what he is after and he tracks it down.

What are you looking for?

It is four months and four days until Christmas day. The year is effectively two thirds done. Have you gotten the results you are after?

Isn't it funny that those who feel that they have achieved more actually knew what they wanted in the first place. They knew what they were looking for, made plans and took action to get there.

If you truly want to achieve some fantastic results by the end of the year, how will you do it and who will help you get there?

What are you looking for?

If you are looking for a mentor/coach, I have some good news, there are two spots available in my mentoring program. To help you get results by Christmas 2017, I am offering these spots, with a three month commitment at my association price of $650 per month. Contact me via my website for more information or to book in.

Regardless of the steps you take, you MUST take steps. Knowing what direction to take the steps in to get you closer to your goal makes all the difference.

So Dear-Reader what are you looking for?





Warwick Merry - The Get More Guy, is your high energy, results focused, action oriented, no holds barred tour de force Master MC, keynote speaker and Exhibiting Specialist. He ensures your attendees Get More from your event. His MC work is like insurance for your event. It guarantees things will run smoothly and on time. As a speaker, he is like a dose of sparkling mineral water – a bubbling, burst of healthy, sustainable energy for your attendees. If you need a burst of inspiration, cogitation and celebration at your next event you MUST book The Get More Guy, Warwick Merry.
© Get More Pty Ltd
+61 408 592 158 getmore@warwickmerry.com
If you wish to stop receiving our emails or change your subscription options, please
Manage Your Subscription
Get More, 38 Winmalee Drive, Glen Waverley, VIC 3150