Losing $290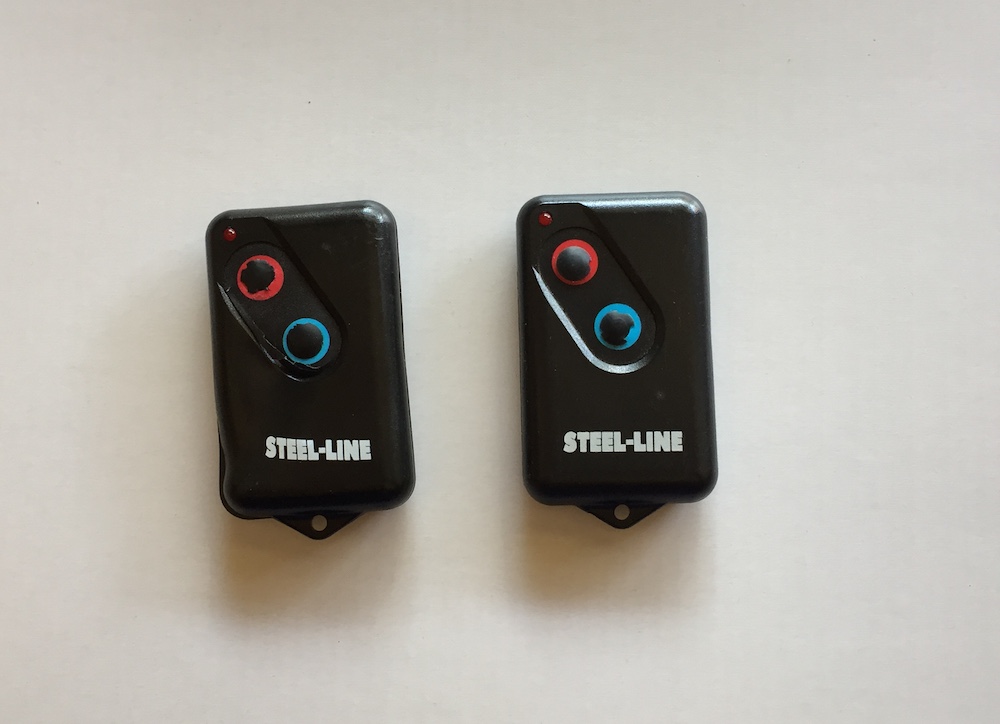 We have remote roller doors on our garage. They are nine years old. After nine years, the remotes don't work like they used to.

You can see one of them has a bit of melting going on! The others used to work as we turned the corner near our house and now they struggle to work parked out the front of the garage.

Yes we have tried new batteries.
Yes we have swapped remotes.
Yes we have Googled looking for answers.

It got to the point that I thought I would call the manufacturer and get a service call. They recommend an annual service call and I thought after nine years it wouldn't hurt to have one.

Talking with the support team they told me that a call out fee was $150 and that remotes were $70 each and if the mother board was faulty you are looking at around $600. I figured a call out fee and a couple of remotes (approx $290) to get another nine years of smooth operation was a price I could pay.

The service was booked in, I changed plans to be available and I was all good to go on Wednesday sometime between 8am and 12noon with a phone call about 30 mins before the technician arrived.

At 12:15 having had no contact, I called to find out what was going on as I had to leave the house in 5 minutes.

To this day, I still don't know what happened. The person on the phone didn't know what was happening and put me through to the service department. They didn't know what was happening and said the technician must have had a problem. I rescheduled the appointment (and later cancelled it).

During this call, no one said sorry. No one acknowledged I had a problem and they would fix it. I even said i was quite annoyed and disappointed and the person on the phone reinforced that they didn't know what had happened to the technician. Basically they were saying, "It's not my fault." I am sure they wrote me off as a grumpy customer.

I have since found a place on the internet (Brisbane) that can send me aftermarket remotes for $15. I received one today and it works from the street corner like the old one used to.

I am very happy.

I have since ordered a couple more as I reckon I can spend up to $290 on remotes and still be ahead.

Customer service is all about acknowledging the emotional state of the customer. It may not be your responsibility, but if you don't acknowledge it, you will get the blame for it anyway.

If they had said, "Terribly sorry. I am not sure what has happened. We usually don't operate like that. I can appreciate you took the morning off to be there. If you would like, I can put you on hold and find out how long the technician will be or I can reschedule the appointment. What would you prefer?"

But their perceived lack of caring has cost them at the very least $290 and possibly more. No matter how good your product is, if you don't care about your customer it will show.

With Amazon about to enter Australia, this is more important than ever!

So Dear-Reader how will you look after your customers when they get emotional?

-----


The latest issue of the Get More Success show is out. In this edition we talk with Kerryn Gamble about her Mindset, Message, Movement philosophy and how she used it to win multiple body building championships. You can listen to the interview here or subscribe on iTunes.



Warwick Merry - The Get More Guy, is your high energy, results focused, action oriented, no holds barred tour de force Master MC, keynote speaker and Exhibiting Specialist. He ensures your attendees Get More from your event. His MC work is like insurance for your event. It guarantees things will run smoothly and on time. As a speaker, he is like a dose of sparkling mineral water – a bubbling, burst of healthy, sustainable energy for your attendees. If you need a burst of inspiration, cogitation and celebration at your next event you MUST book The Get More Guy, Warwick Merry.
© Get More Pty Ltd
+61 408 592 158 getmore@warwickmerry.com
If you wish to stop receiving our emails or change your subscription options, please
Manage Your Subscription
Get More, 38 Winmalee Drive, Glen Waverley, VIC 3150