Back to the Future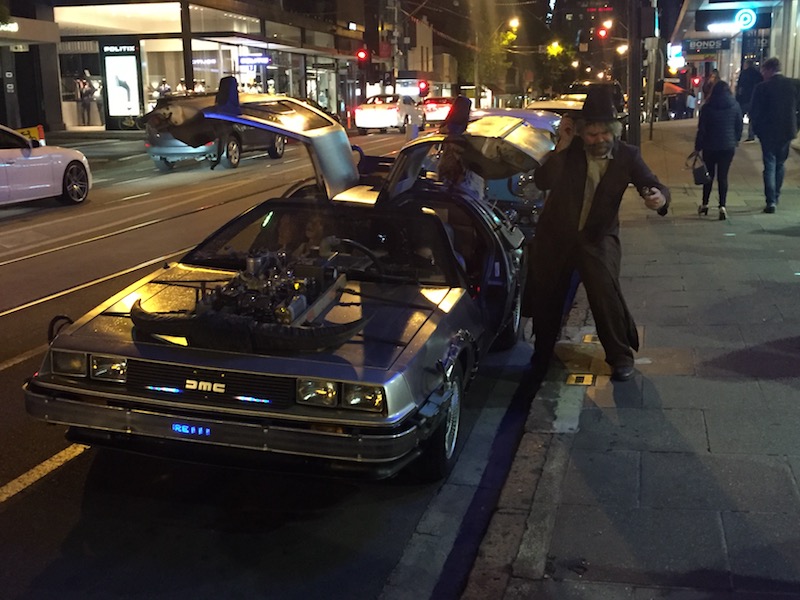 My gorgeous wife and I were out celebrating life and we had a flash back. A flash back to the future, if you will!

Soda Rock Diner was celebrating a move to a new location and had set up Doc and the Delorean out the front.

This was a great idea (although Doc was not quite a close match) for a couple of reasons.
It's a great call back
It's brand relevant
It was interactive
As a speaker/MC, one of the great tools of a presentation is the Call Back. It is where you mentioned something (a topic, a story, an item, an event) and then later in the presentation when the audience has almost forgotten it, you refer back to it. Comedians use this tool a great deal to excellent effect.
In this instance, people my age (almost 50!) grew up with Doc, the Delorean, Marty McFly and even Einstein (the dog who was sitting on the back of the car). Seeing the car was a great call back to an earlier part of my life which associates with a fun and positive memory.
It was Brand Relevant for Soda Rock as they are an American Diner complete with rollerskating waiting staff and Elvis. In Back to the Future II (and possibly some on Back to the Future) was set in a diner like this one. It was also October 21st which is one of the dates that Doc and Marty head to. So it was well themed and matched the brand of Soda Rock.
It also attracted a big crowd. People were lining up to sit in the driving seat and get their picture taken (look closely in the pic above and you will see a young girl in the front seat (on the left). I suspect there would be a lot of images on Instagram, Facebook, Snapchat and other social media of the Delorean, and possibly even tagged Soda Rock.
Dear-Reader, with the marketing of your business or the marketing that appeals to you, how does it take you Back to the Future?
Warwick Merry - The Get More Guy, is your high energy, results focused, action oriented, no holds barred tour de force Master MC, keynote speaker and Exhibiting Specialist. He ensures your attendees Get More from your event. His MC work is like insurance for your event. It guarantees things will run smoothly and on time. As a speaker, he is like a dose of sparkling mineral water – a bubbling, burst of healthy, sustainable energy for your attendees. If you need a burst of inspiration, cogitation and celebration at your next event you MUST book The Get More Guy, Warwick Merry.
© Get More Pty Ltd
+61 408 592 158 getmore@warwickmerry.com
If you wish to stop receiving our emails or change your subscription options, please
Manage Your Subscription
Get More, 38 Winmalee Drive, Glen Waverley, VIC 3150