Do You Get Compliments That Count?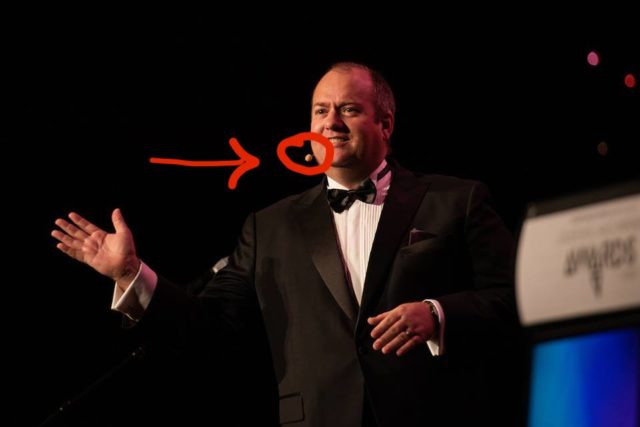 I was thrilled to host the Australian Fraud Awards last week.

The client was delighted with the job I did, but that is another story.

This story is about the little microphone that I use (see the image highlighting). It is a dFine 4088 from DPA Microphones.

You may well be thinking, Who Cares? And the answer is, the audience.

At this event, the AV crew said afterwards, "We love your microphone. It is fantastic." So when the experts compliment your equipment you know you have done well.

I first saw speakers like Lisa McInnes-Smith, Amanda Gore and Keith Abraham have their own microphone. So I set a goal and then bought my own mic as a reward for myself for reaching that goal in my business.

But during the research I did, I wanted to get a mic that sounded good, was easy to use and was comfortable for me.

Having the right gear makes all the difference, regardless of what you do. Having your own gear that is tuned to you, adjusted to your needs and works every time (that the pro's think is amazing), well that is what the pro's do. Without it you will be "OK" but who wants to be OK when you can be AWESOME!

So Dear-Reader how good is your gear?
Have you got gear so good that the pro's compliment it?
What gear do you need?


Warwick Merry - The Get More Guy, is your high energy, results focused, action oriented, no holds barred tour de force Master MC, keynote speaker and Exhibiting Specialist. He ensures your attendees Get More from your event. His MC work is like insurance for your event. It guarantees things will run smoothly and on time. As a speaker, he is like a dose of sparkling mineral water – a bubbling, burst of healthy, sustainable energy for your attendees. If you need a burst of inspiration, cogitation and celebration at your next event you MUST book The Get More Guy, Warwick Merry.
© Get More Pty Ltd
+61 408 592 158 getmore@warwickmerry.com
If you wish to stop receiving our emails or change your subscription options, please
Manage Your Subscription
Get More, 38 Winmalee Drive, Glen Waverley, VIC 3150