Are You Prepared for Major Failure?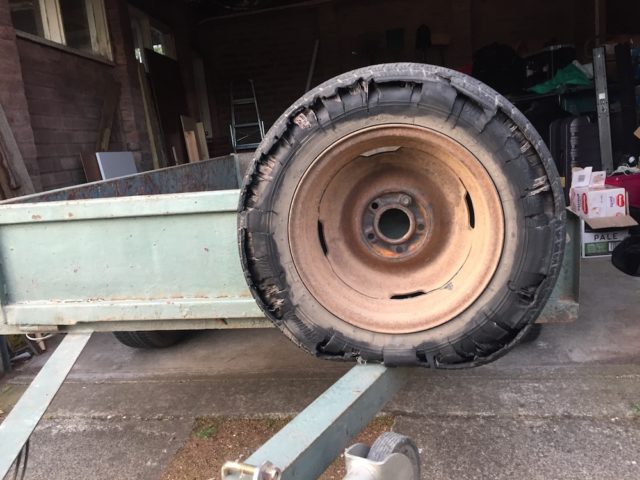 "Expect the Best and Prepare for the Worst" has been my mantra in preparation for the events I host. It also applies to other areas of my life.

On the way back from the shed yesterday, the car felt funny. It had some weird vibrations going on and I couldn't work it out. When I saw in the mirror some bits of rubber flinging into the air, I knew I had a problem. I pulled off on the side of the road.

Then I thought traffic was pretty busy and I didn't want to get too close to it. The emergency lane was pretty narrow as they had that new barrier wire up. So I just got very close to it.

Yes, my tyre was flat - well, probably a little beyond flat!

Luckily I had a spare, most trailers don't. Let's be honest, it wasn't luck, I made sure I had a spare on the trailer and I check it's air pressure when I check the trailer tyres.

A quick change of tyres and I was back on my way. Again, I was expecting the best but preparing for the worst.

The same thing happens in the events that I host. Things go wrong ALL THE TIME.
It is just a matter of planning for them knowing that you can plan for 80% of the problems but 20% will come out of left field and you just have to deal with them.

In my 20 years of hosting events here are some of the things that have happened to me and others around me:
Yesterday my friend landed in Sydney to do her early morning keynote and her luggage (with her performance outfit) went to Adelaide
Flights have been cancelled, missed, delayed causing speakers to be late or not turn up. I had a flight rescheduled coming from Perth to Adelaide. By the time I got to Adelaide the even would have been over. So instead I went back home to Melbourne and had 20 mins to spare to present to the audience over the internet!
AV has failed (this happens so often that it is not really a problem anymore. The show will go on!)
Power outages
Evacuation alarms - one went off at a charity dinner I was hosting right as we were coming to the end of the night and half the people simply went home!
Speakers not showing up (this has happened a couple of times and my event organisers love that I have a keynote up my sleeve and ready to go when it does)
A death at the event. This has happened once for me and has had me re-evaluate some of my protocols.
So Dear-Reader, in what you do and in your life, how do you expect the best and prepare for the worst?
Are you prepared for Major Failure?
Warwick Merry - The Get More Guy, is your high energy, results focused, action oriented, no holds barred tour de force Master MC, keynote speaker and Exhibiting Specialist. He ensures your attendees Get More from your event. His MC work is like insurance for your event. It guarantees things will run smoothly and on time. As a speaker, he is like a dose of sparkling mineral water – a bubbling, burst of healthy, sustainable energy for your attendees. If you need a burst of inspiration, cogitation and celebration at your next event you MUST book The Get More Guy, Warwick Merry.
© Get More Pty Ltd
+61 408 592 158 getmore@warwickmerry.com
If you wish to stop receiving our emails or change your subscription options, please
Manage Your Subscription
Get More, 38 Winmalee Drive, Glen Waverley, VIC 3150