Can You Help With A Bale?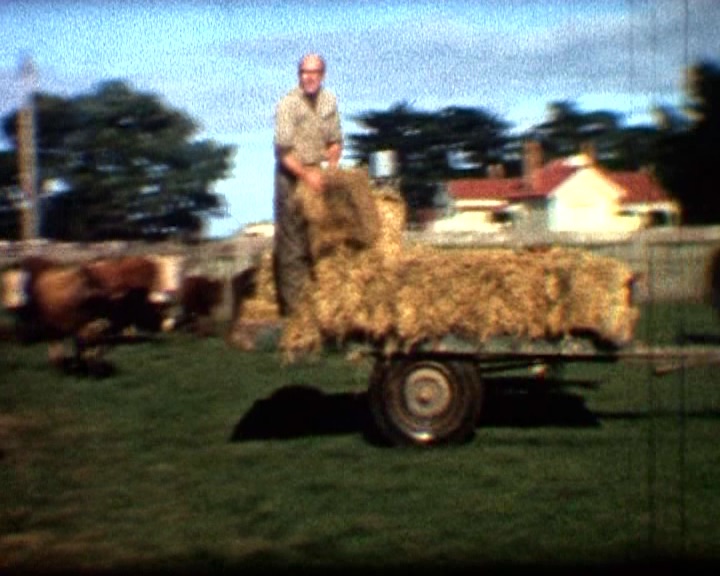 Sorry the photo is bad but it was taken back in the day when we couldn't see the photo immediately after taking it, so it will have to do.

It is my dad, feeding out hay in the "Bull Paddock". It was rare to have so many cattle in here but it was because, at this time, 1/3 of the farm was flooded and under water so the cows went wherever we had space.

Times have changed.

Those trees aren't there anymore. In fact, the house got burnt down six months after our family sold it. (It lasted over 100 years in our family and six months in someone else's!)

For many farmers, the grass isn't as green either. That is the life of a farmer.

Constant changing of factors beyond your control. While farmers have developed a reputation for complaining about the weather (it probably is the most discussed topic), no amount of complaining changes it. Too wet and it washes the crop away or makes it impossible to put your cattle on it. Too dry and everything dies and you have to sell or kill your animals. That Goldilocks Zone where everything is "Juuuuust right" is so rare.

Add to that the prices you are paid for your crop, cattle, milk or produce is typically set by someone else and it becomes a challenging life. My Uncle and Aunt say "Farming is the kind of thing that looks great from a car window". Out of interest, the milk price today in Victoria is about 44 cents per litre according to Dairy Australia. According to correspondence to the Australian Parliament from the Australian Milk Producers Association, the milk price in 1985 was about 32 cents per litre. That is about 1% increase per year. Far less than the CPI. Some dairy farmers are being paid less per litre than what it costs to produce.

The current drought in NSW and QLD is reaching crisis point.

No doubt you have seen footage, images or heard stories about the complete lack of feed. So I am going to do a little something for the farmers and I am hoping you can help.

If you are in Sydney on Tuesday 7th of November, I will be hosting a LinkedIn Panel Session for LinkedIn Local Sydney and all proceeds will be going to Buy A Bale to get more hay for our farmers. This will be an amazing session with some great speakers who will share their experience on how you can make the most of LinkedIn. You also get to ask as many questions as you want.

Our fabulous line-up of speakers include (click on their name to check out their LinkedIn Profile):
JILLIAN BULLOCK Award Winner for 'Best Use of LinkedIn 2018 Australiasia' from the Social Media Marketing Institute, and a Certified LinkedIn Ninja.
JANE JACKSON Best Selling Author of Navigating Career Crossroads, 'Your Career' Podcast Host, and Career Management Coach
ANNA McAFEE Global Founder of LinkedInLocal and the Aussie lady who started a viral global movement
GEOFF ANDERSON Video Producer, Best Selling Author of 'Shoot Me Now', and Keynote Speaker
DION WOO Entrepreneur and co-founder of LInfluencers, a group who leverage the influence of companies, individuals and charities

You can find out more or book a ticket here.

If you are not in Sydney and still want to help, you can donate to Buy a Bale here. To help us track our campaign, if you can please put under "How Did You Hear About Us" - Other and then put our campaign number, RASN94911 in the details field.

On behalf of the farmers, thanks for your support. I hope you can help with a bale.

PS On this episode of the Get More Success show I chat with my FAVOURITE Industrial Designer, Philippe Guichard. Award winning designer and amzingingly interesting guy. You can listen here or click on the image below for the show.


Warwick Merry - The Get More Guy, is your high energy, results focused, action oriented, no holds barred tour de force Master MC, keynote speaker and Exhibiting Specialist. He ensures your attendees Get More from your event. His MC work is like insurance for your event. It guarantees things will run smoothly and on time. As a speaker, he is like a dose of sparkling mineral water – a bubbling, burst of healthy, sustainable energy for your attendees. If you need a burst of inspiration, cogitation and celebration at your next event you MUST book The Get More Guy, Warwick Merry.
© Get More Pty Ltd
+61 408 592 158 getmore@warwickmerry.com
If you wish to stop receiving our emails or change your subscription options, please
Manage Your Subscription
Get More, 38 Winmalee Drive, Glen Waverley, VIC 3150